Robin Data receives growth financing
Robin Data receives growth financing from BMP Ventures AG via the IBG funds and from other business angels with high industry expertise.
Magdeburg / Merseburg, 28.07.2020 - The B2B SaaS start-up Robin Data receives further growth financing through the IBG funds managed by bmp Ventures AG together with business angels experienced in the industry. With a further financing volume and the support of the investors, Robin Data will further develop the data protection software of the same name. Only 1.5 years after the foundation of Robin Data GmbH, the data protection software is already being used by numerous customers at over 300 locations.
Short facts for financing growth:
Robin Data receives growth financing from bmp Ventures AG and Business Angels
Robin Data further develops Germany's only preconfigured data protection software and aims to increase market share
ROBIN DATA RECEIVES GROWTH FINANCING AND FURTHER DEVELOPS DATA PROTECTION SOFTWARE
Robin Data enables companies to create their data protection documentation with just a few clicks. Via a browser application, users can access numerous sector-specific data protection contents such as processing activities, technical and organisational measures and data types and categories. This is unique up to now, as the data protection content, in particular, has been incorporated by experienced data protection officers and lawyers. As a result, the operational data protection documentation is not only legally compliant, but also implemented within a very short time. The development of the data protection software took place in an unusually short period of only one year, even though 100 % of the development took place in Germany. In addition, the user data is stored in an ISO/IEC 27001 certified data centre located in Germany. It was only in June 2020 that Robin Data came under the Top 100 fastest growing startups in Germany elected.
We want the best product in the growing market for digital data protection. For me, the data protection documentation of the future is clearly digital, automated and time efficient. This investment will enable us to further develop our data protection software and further expand our market share.

Prof. Dr. Andre Döring, CEO & Co-Founder of Robin Data GmbH
With bmp Ventures AG as an investor, Robin Data continues to rely on one of the leading venture capital companies in Germany. The new business angels also bring with them many years of expertise in various areas of corporate development and industry knowledge.
Dr. Jan Alberti, CEO of bmp Ventures AG, adds: "The Robin Data team has a very high level of industry know-how in the market and can make a significant contribution to digitisation in close cooperation with Data Protection Officers. We are pleased to be able to make a further investment for the growth of the company with the IBG funds together with business angels who are very familiar with us.
With the growth financing, Robin Data GmbH wants to further develop the data protection software and further expand shares in the growing market for digital data protection.
About the IBG Funds
The Magdeburg-based IBG funds are the venture capital funds of the Land of Saxony-Anhalt. The IBG Funds provide equity capital to innovative companies with sustainable and above-average growth potential and headquarters/branch in Saxony-Anhalt. At the beginning of 2017 the IBG launched the new venture capital fund RKF III with a volume of EUR 84 million. The fund is financed by funds from the state and the European Union and invests in innovative companies in Saxony-Anhalt in the business phases seed, start-up and growth. The IBG funds are managed by bmp Ventures AG. www.ibg-vc.de
About bmp Ventures AG
With an experience background of more than 250 investments from almost all technology segments, most of which are in the early stages, bmp is one of the most experienced venture capital investors in Germany. In addition to direct investments, bmp has managed venture capital funds for KfW Bankengruppe and DEG - Deutsche Investitions- und Entwicklungsgesellschaft, among others. Currently, bmp manages the IBG funds in Saxony-Anhalt and the Frühphasenfonds Brandenburg. bmp has about 20 employees at the locations Berlin and Magdeburg. www.bmp.com
About Robin Data GmbH
For 1.5 years the company has been supporting customers throughout Germany in the implementation of their data protection documentation. Robin Data is a smart data protection management platform with which Data Protection Officers independently implement the requirements of the EU General Data Protection Regulation (GDPR) in accordance with the law. With Robin Data, Data Protection Officers gain more time for analysis and personal consultation with their customers and reduce their administrative workload. More information is available at www.robin-data.io.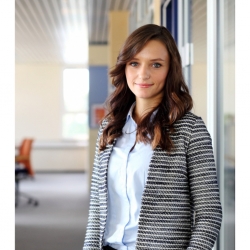 Latest posts by Caroline Schwabe
(see all)
This might interest you too: